Local Missions
American Red Cross of Greater Westfield:  Locally the American Red Cross Disaster Services assists individuals and families 24 hours a day displaced by natural and man-made disasters as well as local fires. Clients are assisted with food, clothing and shelter as well as many other immediate  needs. They also provide canteen services to community outreach programs such as Disaster Preparedness and the Pillowcase Project which teaches preparedness to elementary school students. They are currently installing new smoke detectors and carbon monoxide detectors free of charge here in Westfield during a campaign to reduce home fires nationally. The Red Cross also provides health and safety classes, maintains a blood donation center and also conducts mobile blood drives. They also provide supportive services to the US Military.
Kamp for Kids Kampership :  Kamp for Kids is located at Camp Togowauk, 754 Russell Road in Westfield.  It is "a place where there are no differences only different ways of doing things". Kamp for Kids is more than a place, it is an experience of friendship and inclusion. It is for children with and without disabilities.
Lions Eyeglass Drive- Recycle for Sight:  Used eyeglasses help children and adults in developing countries enjoy a better quality of life. Donated glasses are sorted, cleaned, and laboriously checked for prescription type by volunteers. These glasses are then delivered free of charge to people in need of corrective lenses locally and around the world.
Community Table: The community table services approximately 65 meals per day, six days per week. The Community Table is located on Meadow Street, Westfield, MA.  First church participates in preparing and serving a meal on the fourth Tuesday of each month.  All members of the congregation are welcome to help prepare, serve and clean up at the community table.
New Beginnings:  Provides shelter for battered women and their children. Maximum stay is 90 days. There is a 24 hour hotline responding to women in crisis who have been raped or abused. Phone counseling as well as individual short-term counseling is available. Weekly support group for battered women is also available.
Salvation Army of Greater Westfield:  This is a worldwide Evangelical Christian church human service agency and non-profit corporation. Its message is based on the bible and its ministry motivated by the love of God. The mission of the Salvation Army is to preach the gospel of Jesus Christ and to meet the human needs in His name without discrimination. The committee donates financial services for fuel and other materials to be used locally.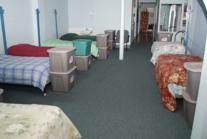 Samaritan Inn of Westfield:  The Greater Westfield Samaritan Inn is the main dormitory that has approximately 40 beds for males and females. This dormitory is used by the homeless people. This program operates a Day Center from 9 a.m. to 5 p.m. in order to allow shelter guests to remain on site. A full time mental health representative helps to arrange mental health services and has an outreach program or those living without shelter.
Westfield Food Pantry:   The Westfield Food Pantry has been serving the hungry of Westfield since 1986. The food bank services persons or families who are referred by any local human service agency. Currently, about 850-950 people per month receive food from the pantry.  Members of the congregation collect and donate non-perishable food items which are then delivered to the food bank. Our committee also supports the Food Pantry with a yearly commfinancial donation.
Kinship Fund:  Catherine Tansey and Carrie Fiordalice care deeply about helping struggling students at Westfield High School. They
dedicate their days to helping young adults survive trauma and financial hardships as school adjustment counselors and social workers and they do it on a tiny budget. Tansey explained she couldn't keep running to administrators for money during this trying financial times, rather, she created the Kinship Fund and partnered with community organizations to help their cause.
Westfield Crop Walk:  All the money raised from the annual event goes towards helping stop hunger locally, nationally and internationally.  The committee assists when needed by signing and walkers and sponsors on behalf of the First Church.
Our House: Our House is a 10unit home for unaccompanied young adults 18 to 24 years old located on Broad Street in Westfield.  It provides supportive services to   
homeless young adults, who wish to improve on their goals for living independently, further their education and improve work skills.  Each resident is provided an individual apartment with kitchenette along with communal living space.